I close my eyes to indulge and reminisce of a sunset that never existed.
V.
2043
225
Icon: caramcream, Code: unknown srr, gifs: tumblr
Emily Browning

2016-08-21, 19:23

---

nothing, everything,

anything, something:

if you have nothing, then you have everything, because you have the freedom to do anything, without the fear of losing something.
All The time she was strange and dangerous but mostly she was sweet, scared and harmless.
131
3
Katherine McNamara
Valkirija su kočėlu rankoje kuri išskėstoms rankom pasitiks tave ir spręs tavo sielos likimą.

2017-01-08, 21:22

---

Sustojus prie ji piktai jau šimtąjį kartą pašnairavo į savo draugę. Daugiau gyvenime kai žmogus kreipsis į tave pagalvos ir paklausi paklausi ką reiks daryt, o jis atsakys " Pasitikėk manimi, tai niekis", pirmu taikymu reikia atsisakyt. Bet... Isabelei, tai buvo šaukštai po pietų. Draugę sugundė jos pažįstamos pažįstami, kad šį vakarą vyks kažkoks grandiozinis vakaras ir tam trūksta darbuotojų, kurie būtų neblogos išvaizdos. Garsiai atsidusus, nepajautė kaip ją įtempė per darbuotojams skirtą įėjimą.

 

Never I have dealt with anything more difficult than my own soul
Oh, I m running out of breath, but I got stamina.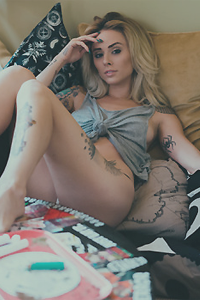 2017-01-08, 21:27

---

Norėdama bent kiek pailsėti nuo tokios nenusisekusios dienos, Iri, vis dėl to sugalvojo atkeliauti čia. Niekam ne paslaptis, kad šiai mergytei į kitas merginas taip pat patinka žiūrėti kaip vyrams, todėl ši vieta tiko tobulai. Nieko nelaukusi ši įžingsniavo į klubą.